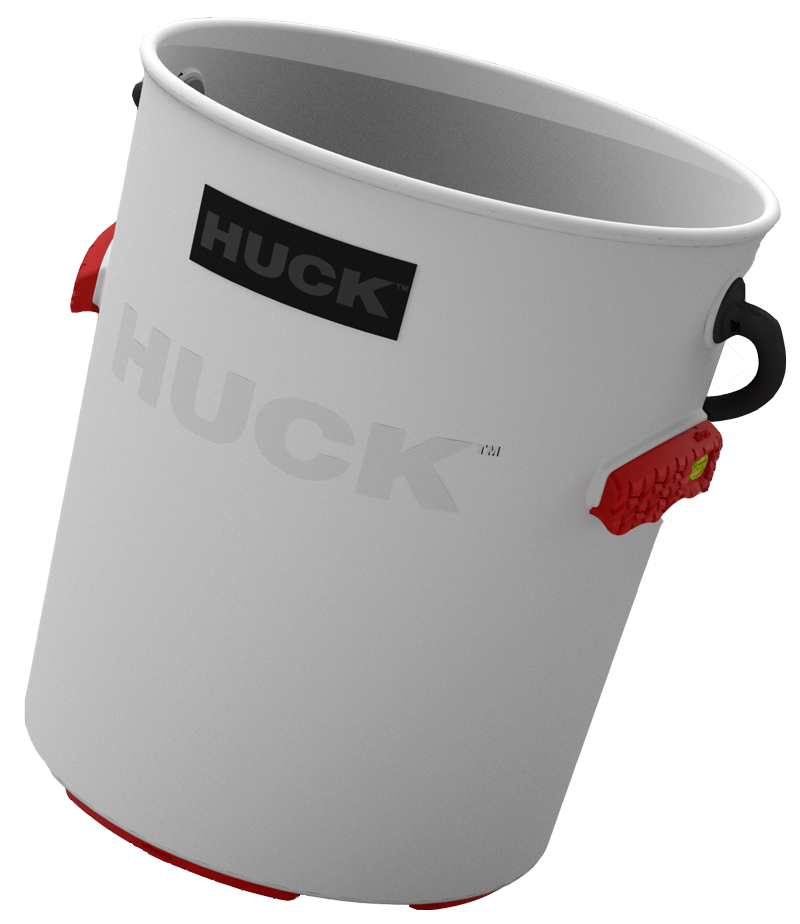 Introducing the HUCK Performance Bucket.
A HUCK bucket is designed to perform, made from performance polymers and built to last. It's a five-gallon bucket on steroids. It's made super strong and will last super long!
Proudly made in the USA!*
Our Buckets are made and assembled in the USA with internationally sourced rubber. *The only exception to our commitment to manufacture within the USA is our rubber compound sourcing that comes from overseas due to Vibram's robust US Military contracts. We were unable to continue our production with Vibram's domestic resources due to their increasing need to supply the men and women of the US Military. The US Military has our full and complete support and they are a group of people we will always gladly take a back seat to.
Made from , a proprietary blend of performance polymers
Your everyday, disposable five-gallon bucket is constructed of an inexpensive, ordinary high-density polyethylene, the same material used to make milk jugs and sandwich bags. It's cheap and readily available and a good choice for a low-cost, disposable product.
A HUCK performance bucket is constructed of a proprietary blend of performance polymers known as SpryTech, specially formulated for extreme strength and durability, yet light weight and with uncommon resistance to wear, temperature and chemicals. HUCK's polymer blend offers excellent UV stabilization so it won't degrade when subjected to constant sunlight, and it's BPA free so it is food-safe. Using it to construct a 5-gallon bucket changes everything!
Walls that are twice as thick, handle bulkheads that are six times as thick
Over the years, to engineer cost out, makers of the disposable five gallon bucket have actually made the walls of the bucket thinner and thinner. The HUCK Performance Bucket features bucket walls that are not only made of SpryTech, but are 1/8" thick, which is twice as thick as the roughly 1/16" walls on disposable buckets. Although a HUCK is twice as thick and made of a substantial material, it is still flexible enough to survive a drop of at least 20 feet when full of water. Even better, the handle bulkheads and plugs on a HUCK, the areas on an ordinary bucket that are most likely to break, are 3/8" thick or six times thicker than the 1/16" walls on an ordinary disposable bucket. Additionally, we've reinforced the bucket rim above the handle bulkheads for even more handle area strength. Overkill? Maybe. But we want to make certain no matter what you put in your HUCK bucket, the handles are not going to pop out.
Exclusive, Grippin' Feet™ – made by Vibram® – prevent skidding, let you spray underneath

Who better than Vibram®, the company that puts the soles on virtually all hiking and hunting footwear, to custom-design the feet for the HUCK Bucket? (HUCK is one of very few companies that Vibram® has agreed to work with outside the footwear industry). Using their new ICETREK™ performance rubber compound designed for unparalleled grip on wet and dry surfaces alike, the four Vibram®-made Grippin' Feet™ on a HUCK Bucket provide non-skid performance as well as exceptional all-terrain adaptability and rugged, long-lasting durability. The TurtleGrip™ tread pattern, derived from the shape of a turtle shell, features optimal angles and spacing to maximize grip while minimizing the pick-up of grit. And, thanks to the tread pattern and the fact that the feet protrude 3/8 inch below the bucket wall, you can spray beneath the bucket without moving it. Also, the Grippin' Feet™ are replaceable should they ever wear out.
Grippin' Technology™ ensures both non-skid performance and non-slip handling
With a bucket, performance means more than the latest, ultra-strong materials. It also means high-performance design that enhances ground control and handling. It's all about grip – non-skid and non-slip performance. We call it Grippin' Technology™ and it's what ensures your HUCK Bucket won't skid when the going gets tough and won't slip from your hands when the load gets heavy.
Grippin' Feet™ double as finger grips for easy bucket handling
When lifting a HUCK Bucket or pouring out its contents, the four Grippin' Feet™ on the sole of the bucket and the two on the sides become Grippin' Grips, with four finger grooves shaped into each foot. Plus, at the edge of each is a GripLip which rides comfortably into your first finger joint. Finally, the directional lugs on the TurtleGrip tread were formed based on the pattern on an alligator snapping turtle and provide additional finger grip to prevent any finger slippage.
Ultra-tough handle also features molded-in Grippin' finger grooves; StayPut™ design
The first thing to break on a disposable five-gallon bucket is usually the handle. That's why we built the HUCK handle out of the same world-class polymer blend as the bucket body. And, we add considerable control by forming Grippin' finger grooves into the handle into which your fingers slide comfortably. Plus, the HUCK handle is designed to stay put, so you're not constantly having to reach down to grab it.
Radiused base dramatically enhances bucket durability
Arches have been used for thousands of years (think Roman aqueduct supports) because the shape better distributes force. This is why an egg shell is so strong. And, why we radiused the base on a HUCK bucket. Structural engineers will tell you that, compared to the traditional hard corners on a disposable 5-gallon bucket, the rounded edges on a HUCK bucket will take far more punishment. This is yet another reason for the unmatched durability of a HUCK bucket.
Minimized bucket taper (8% wider base) for maximized stability (i.e. a HUCK is less likely to tip)
The tapered shape of a disposable 5-gallon bucket exists so that buckets can nest for shipping or storage. The downside of this tapering is a top-heavy bucket. Rest a mop in a bucket with little water in it and the mop will likely tip the bucket. That's why we widened the base on a HUCK bucket to 10.5 inches, which is 8% wider than the base on a traditional 5-gallon bucket. Yes, 8% makes a big difference. The tippability factor goes down significantly. And, don't be concerned that HUCKs won't stack. They do. Easily. The top diameter is 11.5 inches meaning there is still a full inch difference.
It should also be noted that the side handles create a void when stacked that eliminates vapor lock (the suction you've probably experienced when two 5-gallon buckets get stuck together) and makes nested buckets easier to separate.
Performance innovations right down to the screws used to secure the handles
In an effort to absolutely maximize the strength of a HUCK bucket, we went to great lengths to determine the method by which the handle would best be attached to the bucket, yet still provide extraordinary performance. The machine screws used on the HUCK handles go all the way through the inner washer and bucket from the inside, then fasten on the outside with a nut that is protected on all sides by the handle. This means the HUCK handle can hold 600 lbs and still be fully functional.
More environmentally friendly, made in the USA
Because HUCK is a lifetime bucket, it represents a more environmentally friendly alternative to the army of disposable 5-gallon buckets that end up in landfills around the globe (it is estimated that there are 400 million five-gallon buckets produced annually). We back up that claim with a 1% of gross sales going back to environmental charities. And, the HUCK Bucket itself is made in the USA, creating jobs here in America.
HUCK is made here in the USA
Buckets and handle – Maryland
Feet and side handles – Massachusetts
Screws – Illinois
Labels – Utah
Assembly and shipping – Maryland