INTRODUCING THE HUCK PERFORMANCE BUCKET
Every HUCK Performance Bucket is designed and engineered for peak performance – made from performance polymers and built to last a lifetime.
PROUDLY MADE IN THE UNITED STATES
HUCK Performance Buckets is a small, Maryland-based business that proudly makes and assembles buckets right here in the great United States of America.
UNPARALLELED FEATURES
No. The HUCK Performance Bucket is definitely not just another five-gallon bucket. There's no comparison, really. Our buckets are absolutely loaded with ergonomic features, utilitarian function and engineered to exceed expectations. Read more about what sets us apart below.
MADE FROM
a proprietary blend of performance polymers
Your everyday, disposable five-gallon bucket is constructed of an inexpensive, ordinary high-density polyethylene, the same material used to make milk jugs and sandwich bags. It's cheap and readily available and a good choice for a low-cost, disposable product.
The HUCK Performance Bucket is constructed of a proprietary blend of performance polymers known as SpryTech, specially formulated for extreme strength and durability, yet light weight and with uncommon resistance to wear, temperature and chemicals.
HUCK's polymer blend offers excellent UV stabilization so it won't degrade when subjected to constant sunlight, and it's BPA free so it is food-safe. Using it to construct a 5-gallon bucket changes everything!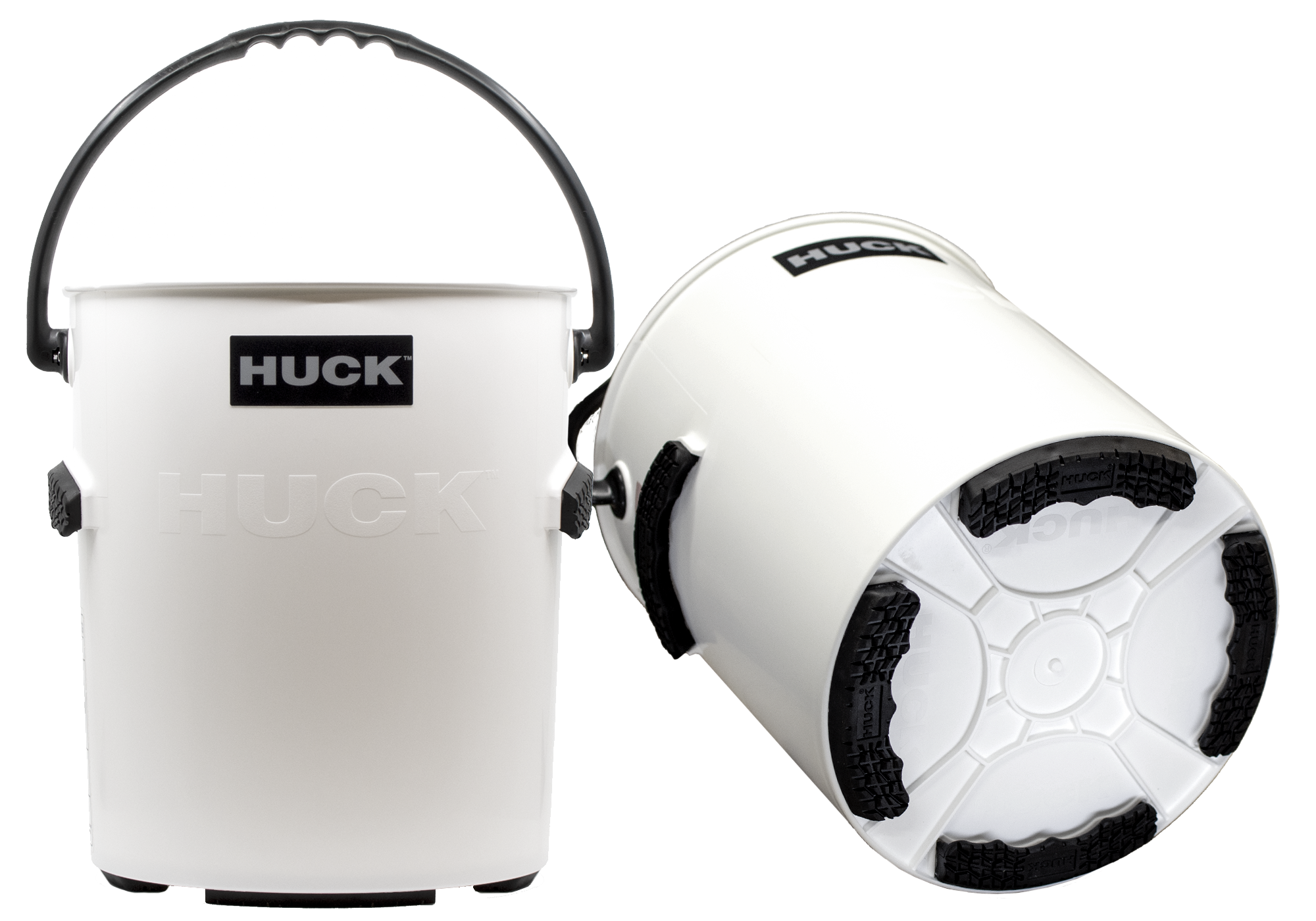 ERGONOMIC INDENTS
One of the many ergonomic features of our buckets is the finger indents along the main handle. They comfortably distribute weight evenly across your hand.
HANDLE BULKHEADS
Our thru-bolt system allows our bucket handle to withstand more weight than the bucket can contain. Tested up to 600 lb! With stainless steel hardware that is chrome-dipped for corrosion resistance, our buckets are ready for the stream or sea!
STAYPUT HANDLE
Our StayPut Handle stays put where you leave it, so you can keep the handle upright and out of the way! It's more comfortable to use as you don't have to bend down as deeply to pick it up.
DYNAMIC GRIP
Wet or dry? Our non-skid feet are crafted from a compound that offers exceptional grip on both wet and dry surfaces.
RAISED FEET
Our 3/8" raised feet keep the bucket elevated, protecting the bucket bottom. It also allows water to move through and under the bucket as opposed to pushing the bucket.
TURTLEGRIP TREAD
Our non-skid/non-marking side handles feature ergonomic scallops for enhanced control and handling when pouring or lifting. Our unique HUCK Turtle Grip Tread pattern provides extra grip to prevent finger slippage.
RIB SYSTEM
We've re-designed the bucket bottom by adding a structured grid, or rib system, to enhance and strengthen the structure of the bucket floor.